Ray J. Wang Shows His Before And After Acne Pictures So You Can See How His Skin Has Cleared Up.
Nothing worked for me. I tried all of it, Benzoyl Peroxide, topical creams, acne-antibiotics, laser treatments, dermatologists, toners, acid peels, I've even traveled to foreign countries to visit "famous" cosmetic physicians to seek help.
I was desperate. Very desperate.
Then finally I found the solution. Well... more like "solutions." But it was worth it, now I can confidently tell you to believe in what I'm saying because I'm living proof that it works. The following pictures are my Before and After Acne Pictures in the last 2-3 years of my life.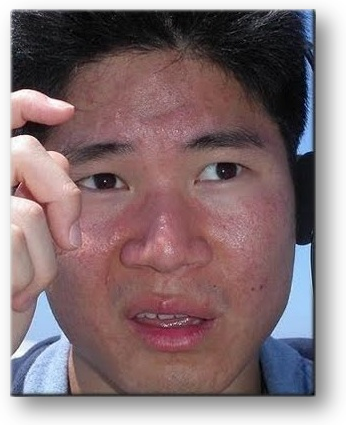 SUMMER 2004
This is was taken somewhere by the beach so there's pretty good lighting for you to see my face. I don't know if you could tell but there's a lot of small infections, bumps, inflammation and irritation causing a lot of redness. Look at the areas slightly underneath my eyes, that's my real skin color. Everything else isn't.
I was getting pimples here and there almost every day. There would be a new one and I would pop it one day, another one and I would get it. I was just trying my hardest to try and keep my face as smooth as I could get it. I think I was a senior in high school or freshmen in college. I tried aloe vera, bee propilis, raw eggs whites, etc... I still didn't really know what I was doing at this point. I guess I was just kind of hoping that it would be like people said, that this was just a phase and that eventually it would go away since I was growing out of my teen hormonal years.
And maybe some of you have worse acne that I did in these pictures. Maybe some of you have better skin than I do in these pictures.
But maybe we're not all that different regardless of how many extra pimples you have on your face. Because it was something even bigger than that...
YOU'RE NOT THE ONLY ONE... ACNE MAKES PEOPLE SELF-CONSCIOUS!
I felt like I had a huge problem.  And every morning when I woke up, the first thing on my mind would be my face and how it looked.  I remember walking into the bathroom every morning hoping that I did not have a new pimple.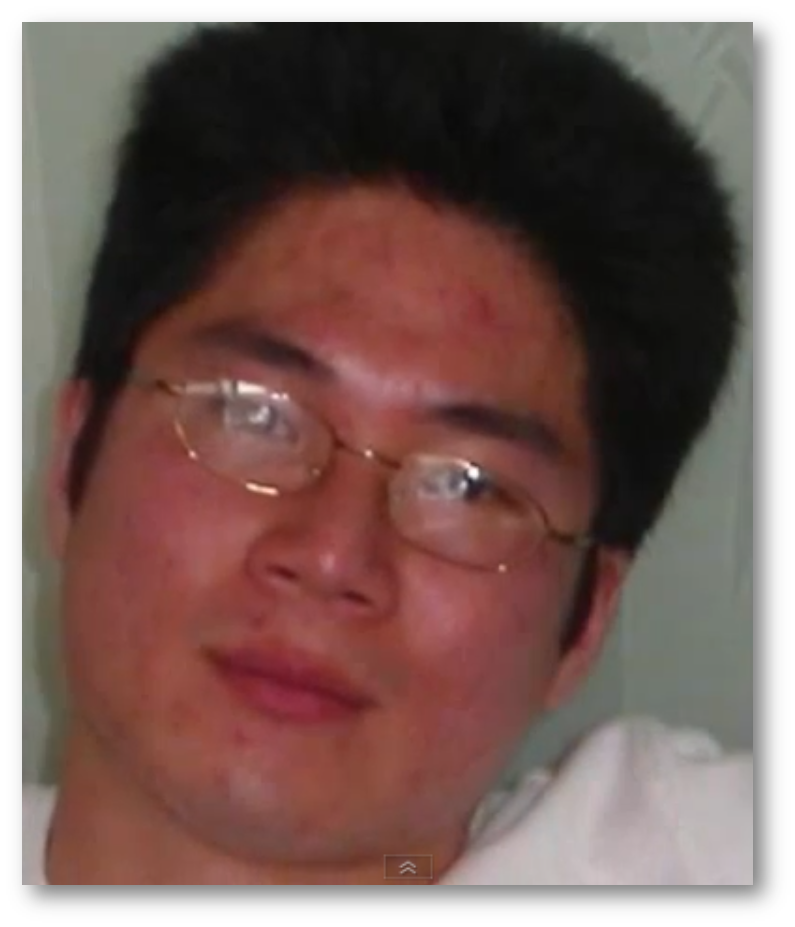 And often times, I was very disappointed: another one.
I'd walk around campus, paranoid and self conscious.  When I'd ask my friends if they noticed this new pimple, they'd often say, "That?  I can't even tell that you have a new pimple." But in my head I heard, "You have so many pimples, I can't even tell that you have a new one."
WINTER 2005
So I was digging through some of my old stuff when I was at my parent's house a few weeks back and came across some old pictures that I had completely forgotten about.
It brought me back to those times that weren't that great for me. Honest, high school wasn't that great for me. When I wasn't worrying about getting good grades, I was worrying about my face. And most of the time, I wasn't worrying about doing well in school.
This was my senior year in high school. Most people say it was one of the best times of their lives. But for me, I probably wouldn't want to go back. All those days and nights sitting there in my room and looking at my acne filled face in the mirror. It was pretty depressing.  I actually didn't want to buy the legitimate version because I really didn't like the way my face was.
Of course, I'd turn the lights to shine at my face JUST right so you really couldn't tell that I had an acne problem when I was in the bathroom of my own room. And if you've ever done something like this, you probably know what I'm talking about.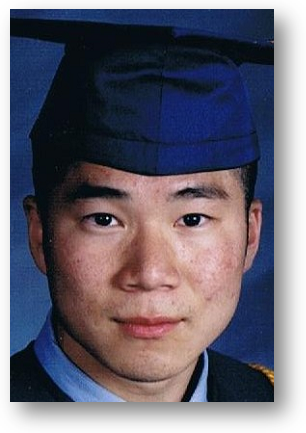 FALL 2005
A year later, a college freshmen now. This was several months after I started seeing a dermatologist. My skin improved for a couple months, then things worseneddramatically. Even in this horrible lighting you can tell that I have really bad acne. My original acne came back and so did the feelings of desperation towards the end of the medication.
And even though I was heavily using antibiotics, applying multiple topical and herbal creams on my face, my acne was coming back.  I felt like I was practically putting on every acne facial product in the book, yet I still wasn't getting results.
I knew I was in trouble when I looked in the mirror and saw that I was getting new cystic acne between my face and neck.
My acne was back...
WINTER 2006
Late December, I just found Aunty Angel. The pain of having each of your pores cleaned out by her was excruciating, and trust me, I've been through a lot of procedures, creams, operations, heavy acid peels, but there's nothing like having the life squeezed out of your face for 45 minutes straight till the point of your eyes literally tearing even though you're not actually crying (I'm completely serious). People would literally cry from the pain it would so bad. But she was the closest thing I could find to achieving clear skin and I would do whatever it took. So finally, a solution right? Wrong.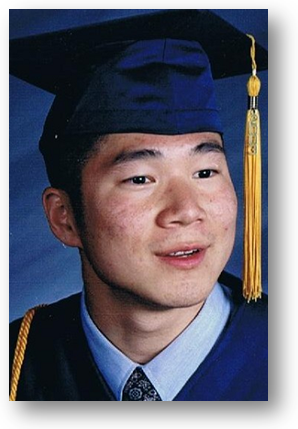 The catch, from Aunty Angel's facial cleaning and treatment, was that it took a week for these really heavy and dark scabs to fall off. The scabs were even more awkward and apparent than the acne. It took another week or two for the scars and dark sports below the scabs to fade away. So I had about 1 week out of every 4 to look normal. This was no way to live. If anything, going to Aunty Angel's place was only a temporary way to clear my keep my skin clear for 1 out of every 4 weeks. This was not a complete solution, unless I planned on staying in 3 out of every 4 weeks of my life due to really bad scars (as shown in the year 2006 picture). I had to find the real answer to why I was having acne. What was so different from me and those others who barely even had to wash their faces and could be acne free?
I stopped seeing Aunty Angel about 8 months after I started her program. It was one month later that I found the final "health" program that cleared my face. If this is confusing, basically Aunty Angel's program was just to manually clear my clogged pores on a frequent basis. As long as you don't have clogged pores then you can't get an infection. This is true, but this was only treating the symptom.
We weren't really addressing the issue of stopping my pores from being clogged. I might have been fine with Aunty Angel's solution but it came at the price of horrible scabs for 3 out of every 4 weeks. Then I would have to go back month. And the pain of her manually cleaning out my pores was incredibly bad, on top of that she was having me apply topical creams which would make the scabs fall off faster. This dried my skin real bad and I knew that if this probably wouldn't be a very realistic long term solution.
MY ACNE WAS DRIVING ME CRAZY!
I was already 22 years old and STILL, I had acne!  Wasn't this supposed to be a puberty thing?
For all those people who said that I had grown out of it, my acne wasn't going anywhere.  My "puberty" had ended 4 years ago and my acne had not gotten better, it had gotten worse!
I was highly, highly skeptical that I was going to wake up one morning and just have it magically go away.
I decided to take matters into my own hands.  Little did I know at the time, I was about to make a decision that would change my skin and my life.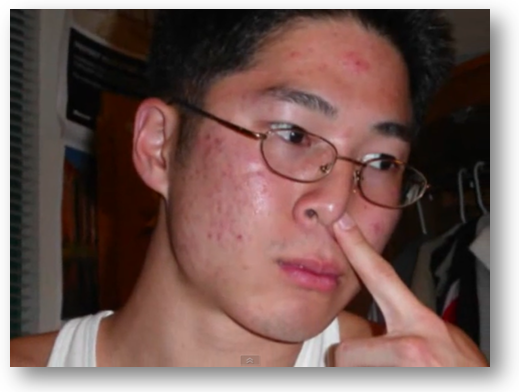 SUMMER 2007
I had finally figured it out. All my experiences from the, more than a decade's worth of, experience had paid off.  The beginning of the How To Clear Your Acne Regimen was born and I was on the right track.
I started seeing my skin clear up and for the first time in my life, I was seeing real results without creams, antibiotics, ProActiv, or any other acne product.  I was going all natural and IT WAS WORKING.
And that's all I really cared about... it was working.
SUMMER 2009
It's the summer, this was maybe a few months ago at my sister's graduation. As you can see I'm holding a graduation cap.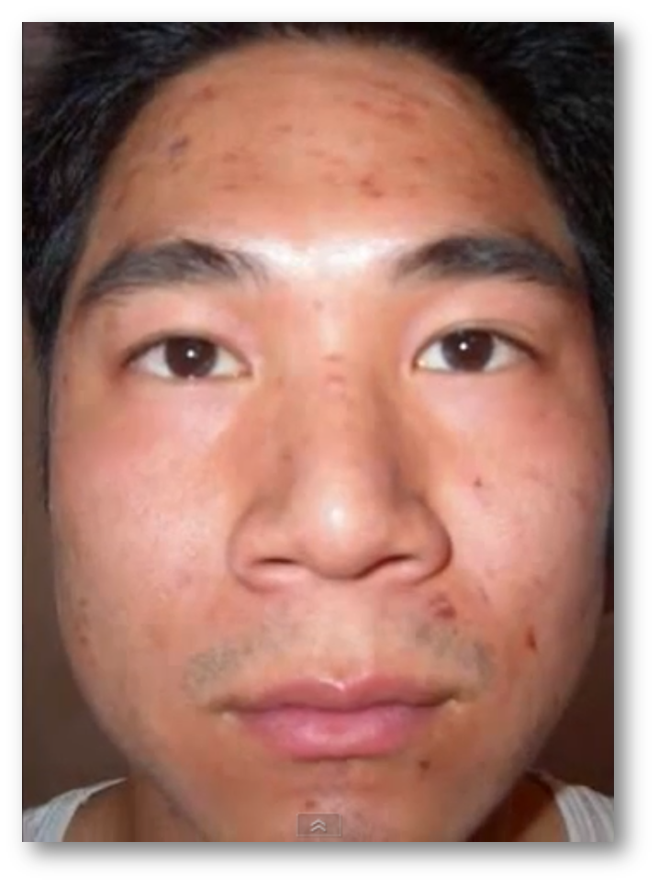 I started working out about a year ago. I weigh, on average, about 145-148 lbs. My skin has stabilized now.
I still get one or two blemishes if I take things to the extreme and get very little sleep, slack on my diet, stress out. But that's only if I completely abuse my body. I still often do, being that I work extreme hours, play hard, study hard, and feel like sleeping early is "wasting" my day.
I don't take as many vitamins anymore and do all the things I used to. It would be great if I still did, but I find that most of the key principles are the important things that people need to remember and sustain.
Even if I do manage to go completely bad and get a pimple or two, I usually know how to calibrate and get my body back to normal. I usually don't just treat the pimple directly, I also am aware that when a pimple happens, it's because my body is exhibiting a symptom as a result of my care towards it.
But that's the other thing, I'm ENFP personality type from the Myer Brigg's Personality Indicator and I don't like to follow strict schedules so I usually will maintain erratic sleep patterns, sometimes working until 5 AM in the morning and sometimes playing until 6 AM. So far, that's just who I am.
However, I find that if my diet is well managed, even if my sleep pattern is out of sync with the rest of the world, my body still is pretty sufficient at managing it's resources. It may be the same
for you as well but optimally, one should sleep around 11 pm.
I hope my before and after pictures have inspired you to read more about what I've done and how you can clear your acne too. Recently, working on my website has reminded me of how things used to be when I had, what seemed like, a never ending cycle of acne. I thought it would cease, but it has, and I figured it out through hard work and diligence. You can too.
ACNE DESTROYED MY CONFIDENCE
I wanted more than anything for clear skin.
I wanted it every day I was in high school.
I wanted to move on with my life.
I wanted to date girls and laugh and have fun without worrying about my face.
I wanted to take photos without worrying about the lighting or the redness.
I wanted to be "normal."
And I finally got to that point.  I finally figured it out.  I've been there and now I'm back.  Here to share all the real information with you guys.  I know what it was like.  I really suffered through it all and I just want to let you guys know, there IS A LIGHT at the end of this dark tunnel.  But it's going to take effort on your part.
HOW I CLEARED MY ACNE
The solution to curing your acne is to not focus on improving your health in the commonly accepted way.   Now, what I'm NOT saying is to not work out, not eat healthy, and not wash your skin.  That is NOT what I'm saying.  However, what I am saying is that what we believe now to be "taking care" of our bodies needs to be tweaked a little bit, especially if you have acne.  And that "tweak" that you're looking for is exactly what How To Clear Your Acne is about.
What every acne sufferer must learn, especially the ones that are really fit and health conscious yet still can't figure out why they still have acne, is that there is a DIFFERENT KIND OF TAKING CARE OF YOUR BODY ROUTINE for us.  Our bodies are different than the "average" person who eats whatever they want and just gains weight.  Sometimes our bodies, which you've probably already noticed, doesn't even gain weight.  Sometimes, when we neglect our bodies, we just end up breaking out instead.  And it sucks.
It doesn't make any sense that we're eating "right," working out, getting a good sweat, going to a sauna, washing our face, and then doing a facial mask yet we STILL breakout.  WHY?!
So whatever you do, don't just keep working out and trying to eat "healthy" thinking that something's going to change and that your acne is suddenly going to start clearing up if you just try harder.
I know this doesn't work.  Because that's what I used to do.  I would just redouble my efforts thinking that I wasn't trying hard enough.  But that's not the answer and it's not going to cure your acne.
You need to stop and think.  Reformulate a new plan.  Really try and understand what's going on.  Figure out the WHY.
It's questions just like these that I racked my brain for years!   I've been in your shoes before and it's hard to really know what works and what doesn't.  It just seems like there are so many acne products out there, it's hard to really find out with ones are telling the truth and which ones are lying. I've bought a lot of them too, Clearasil, Murad, ProActiv, those are just to name a few that I've tried.  I used to have use a lot of acne products such as aloe vera, benzoyl peroxide, face creams, masks, etc... But these days, I barely even wash my face once a day sometimes, and I'm still clear. I'm proof that clearing your acne the healthy and natural way works. And it's permanent too, I still have clear skin and I have no problems maintaining acne free, clear skin.
And I finally figured out the perfect routine and way to care for our bodies and our skin if you have acne.  The true causes of acne are really dirty blood and an overwhelmed system. And I talk a lot about these two causes in my website and more in detail about how to deal with them in my products.
For anybody reading this article, if you're serious about clearing your acne for good, the logical next step for you would be to learn about your body. It doesn't matter if you choose me or someone else, I would highly recommend you to start learning about how to clear your acne from the inside instead of concentrating on the outside. Make sure you know that outside acne treatments are only short term, and that you really want to focus on clearing acne from the inside out.
I don't hold back in this program, I'm telling you all of my experience, my stories, what I went through, what I learned, how I cleared my acne, and I'm teaching you exactly as if I were standing right next to you coaching you through the way. I WISH that I had something like this when I had acne. It would've saved me so much TIME, MONEY, and ENERGY.
I, and thousands of other people, have spent years of our lives suffering from acne.  And I mean REALLY SUFFERING from having acne.  And it's just a handful of us that finally found the secret to be able to free ourselves from those dark days when we hated the reflections of ourselves in the mirror.
There are those people out there that look at their old pictures and remember the days when they USED TO HAVE acne.
Some of them now have moved on with their lives and forgotten about the nights that they were ashamed of meeting new people because of their acne.
The question I have for you is...
WILL THAT BE YOU?
Or are you going to just be another one of the dozens and hundreds and thousands of guys that just stand and wait… or hopes that whatever you're doing now will somehow magically start working?
If you want to know all the steps, top to bottom and front to back for how to clear your acne once in for all, then I have a hint for you …
Go get my eBook "10 Things Every Acne Sufferer Must Know for Clear Skin", which can you can download and be reading in just a few minutes…
It's time for you to stop sitting on the sidelines and missing out on the acne free life you should be living. I'll show you how.
NEXT STEP:

10 Steps to Cure Acne

10 Things Every Acne Sufferer Must Know for Clear Skin. A must have basic foundation for any beginner.

Regular Price: $110

Your Price: $19.97

10 Acne Free Principles
Magic Formula for Clear Skin
Every Acne Sufferer Needs This